Posted on
By Ellen Rossow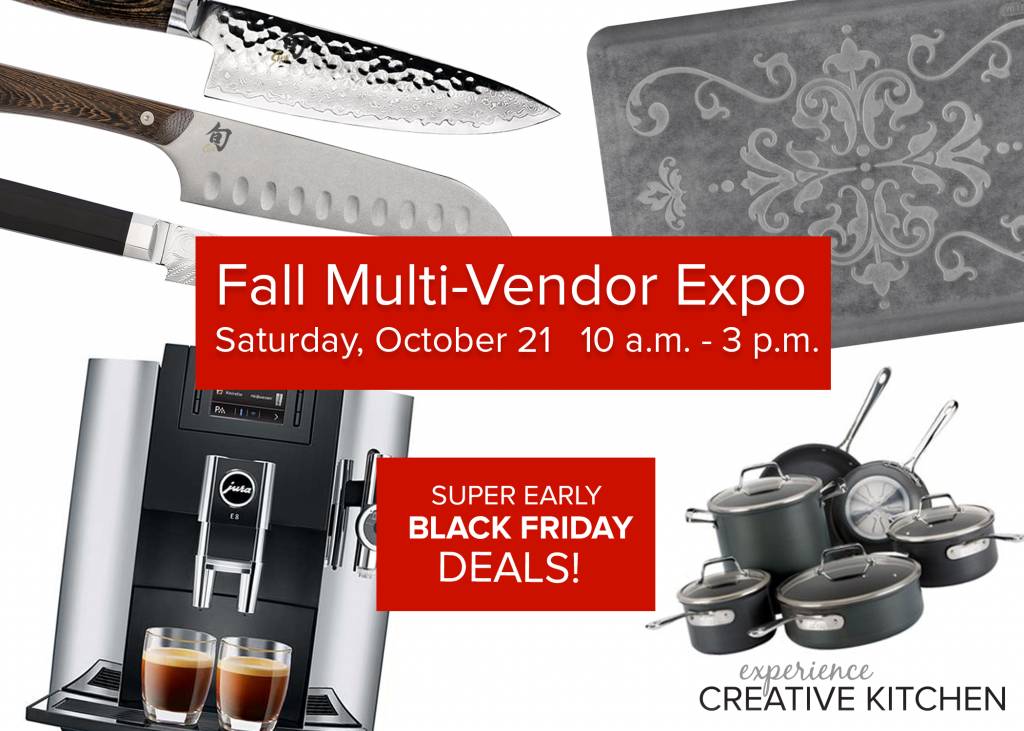 Four Creative Kitchen premiere vendors (Jura, Shun, WellnessMats, & All-Clad) are coming together for one mega-event!
Coffee, cookware, cutlery, & more will be featured at this unique event on Oct 21. Located at Creative Kitchen in the West Acres Shopping Center, this event will run from 10 - 3 and feature great demos and exclusive specials from 4 of Creative Kitchen's top vendors: Jura, Shun, All-Clad, & WellnessMats! Representatives from these companies will be in-store to share their products with attendees and offer exclusive pre-Black Friday pricing you're not going to find anywhere else! Local celeb Jack Sunday from KFGO will also be in-store to share the experience on the air.
Want to learn more about the great brands being featured at the Saturday event? Keep reading below.

What: Fall Multi-Vendor Expo!
When: Oct 21 from 10 - 3 p.m.
Where: Creative Kitchen in the West Acres Shopping Center
Why?: Because who doesn't love free food and great deals
Shun
Shun is a Japanese cutlery brand known for their high-quality and beautiful knives. In the business for over 100 years, they definitely know what they are doing when it comes to creating an aesthetically pleasing and functional product. Creative Kitchen offers a variety of Shun lines including Kanso, Classic, Dual Core, & Premiere. These high-end knives are an investment, but during the Fall Multi-Vendor Expo they will be on sale for 1 day only!
Jura
The Jura brand is known for their unparalleled high-end espresso machines. Perfect for an office space or home use, these highly customizable espresso machines take coffee making to the next level. The Jura company is also known for their fantastic customer service. Place an order for a Jura machine at Creative Kitchen and have your machine drop-shipped to your home or office in no time.
All-Clad
One of the favorites in the Creative Kitchen cookware department is All-Clad. All-Clad cookware pieces are renowned by professional chefs and home cooks alike for their high-quality nature and classic looks. Usually top-of-mind for their stainless steel collections, All-Clad recently released a new line of Hard Anodized non-stick pieces. Now available at Creative Kitchen. Save on these items and more during our Fall Multi-Vendor Event.
WellnessMats
WellnessMats have been a hit at Creative Kitchen for years. A top-of-the-line anti-fatigue mat company based in the US, WellnessMats stand behind their product 100% - and Creative Kitchen does too. These super comfortable mats are available in various colors, sizes, and designs, so you're sure to find one to match your kitchen or workspace. If you can't find the design, color, or size you want at Creative Kitchen, WellnessMats offers a dropship program. Just place a special order at Creative Kitchen and your new mat will be shipped to you in no time. Exclusive savings on these awesome mats will be available during the Fall Multi-Vendor Expo.